Page 4 sur 4 •

1, 2, 3, 4

C'est peut-être indiqué ailleurs sur le forum...
Je viens de tomber sur cet extrait d'un documentaire sur Gemma:

Un hommage dessiné de Claudio Villa dessinateur italien qui fait beaucoup de couvertures des aventures du ranger le plus célèbre d'Italie.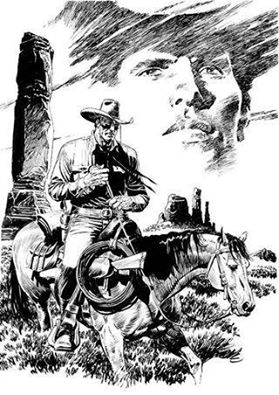 _________________
Quand on n'a pas d'argent, faut utiliser son cerveau (Luigi Cozzi)
L'alcool peut être le pire ennemi d'un homme, mais la bible nous dit d'aimer nos ennemis (Frank Sinatra)

Trinita

Sergio Leone




Messages

: 6090


Date d'inscription

: 06/04/2010


Age

: 36


Localisation

: Angers



Petit rôle dans BEN HUR

cyberpunk

Sergio Leone




Messages

: 2542


Date d'inscription

: 15/04/2010


Age

: 53



Documents provenant d'un blog brésilien: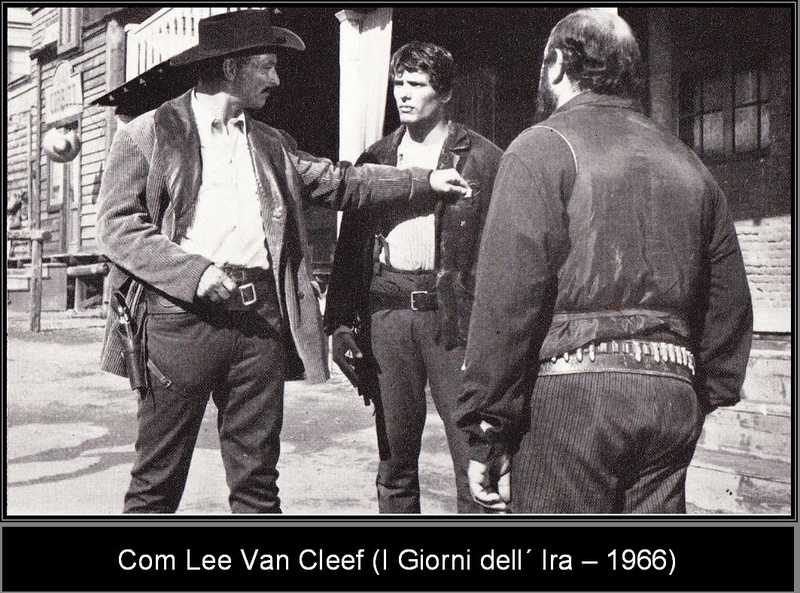 Rex Lee

Sergio Leone




Messages

: 5425


Date d'inscription

: 06/04/2010


Age

: 63


Localisation

: 19




Rex Lee

Sergio Leone




Messages

: 5425


Date d'inscription

: 06/04/2010


Age

: 63


Localisation

: 19



https://www.theguardian.com/film/2013/oct/22/giuliano-gemma
Giuliano Gemma obituary
Handsome star of spaghetti westerns including A Pistol for Ringo
The Guardian
October 22, 2013
When the spaghetti western was born in the early 1960s, some of the Italian lead actors disguised their names under American-sounding ones (though nobody was fooled). Among those competing successfully with bona fide Yanks such as Clint Eastwood and Lee Van Cleef were Terence Hill (born Mario Girotti), Bud Spencer (Carlo Pedersoli) and Montgomery Wood, a temporary pseudonym taken by Giuliano Gemma, who has died in a car accident aged 75.
The strikingly handsome Gemma was one of the brightest stars of the once deprecated, now revered, genre. After five years in sword-and-sandal epics (also known as peplum films), usually supporting muscle men, Gemma made a name for himself (even if, initially, it wasn't his own) in two westerns directed by Duccio Tessari: A Pistol for Ringo (1965) and The Return of Ringo (1965). Their big box-office success granted Gemma stardom and a cult following in more than a dozen similar above-average and average western all'italiana (as the Italians prefer to call them).
Gemma was born in Rome but spent part of his youth in Reggio Emilia, in the north of Italy. Sport was his main interest from an early age, and he competed as a gymnast, swimmer and boxer. He also enjoyed the movies, dreaming of emulating his favourite actor Burt Lancaster, whose athletic prowess he admired. (Gemma later got the chance to meet Lancaster when the former was playing Garibaldi's general in Luchino Visconti's The Leopard in 1963.)
On leaving school, Gemma got some bit parts in films at the Cinecittà film studio in Rome, such as Ben-Hur (1959), where he can be spotted as a Roman officer with Stephen Boyd in a bathhouse scene. Gemma's first real role was in Vittorio Cottafavi's Messalina (1960), as a young would-be assassin, lured into the Roman empress's bed only to be beheaded. The following morning, Messalina (Belinda Lee) triumphantly displays his severed head in the palace quarters of the plotters.
Sign up to our Film Today email
Read more
Apart from looking fetching in a toga as a friend of the titular heroes of Goliath and the Sins of Babylon (1963) and Hercules Against the Sons of the Sun (1964), both played by the bodybuilder Mark Forest (born Lorenzo Luis Degni), Gemma appeared briefly as an actor playing Hercules on the set of a movie in the Federico Fellini episode of Boccaccio '70 (1962).
The turning point came with A Pistol for Ringo. Gemma as Ringo (the name taken from John Wayne's role in Stagecoach) quickly established his persona, distancing himself from Eastwood's Man With No Name in the Sergio Leone "Dollars" trilogy. Ringo, nicknamed Angel Face, is boyish, neatly dressed, clean-shaven and drinks milk instead of alcohol. But the two anti-heroes share the same ruthlessness and accuracy with a gun. As Ringo says: "You know, we got an old sayin' in Texas – God created all men equal ... but the six-gun made them different."
Gemma played another character with the same name in The Return of Ringo, but the protagonist has little in common with the previous one. Gemma is serious and less flippant as a soldier who returns from the American civil war only to find that a Mexican gang has overrun his town, and his wife has been kidnapped. In order to rescue her and seek revenge, he poses as one of the gang.
This was the first of the so-called "Ulysses type" revenge westerns, set in the aftermath of the civil war, and concerned with the troubles of veterans to build up their lives in a postwar society. Falling into that category is Blood for a Silver Dollar (also known as One Silver Dollar, 1965), with Gemma tracking down a bandit who is wreaking havoc in the community to which he has returned from being a prisoner of war. Another favourite theme had Gemma, wrongly accused of a crime, having to prove his innocence, generally by killing people, as in Long Days of Vengeance and Wanted (both 1967).
While the spaghetti western was in decline, Gemma appeared in several crude buddy comic westerns including Alive or Preferably Dead (1969) and Ben and Charlie (1972). Happily, among the dross, Gemma retained his prestige in a number of mainstream non-westerns, notably Valerio Zurlini's superb colonial adventure The Desert of the Tartars (1976), in which he makes a strong impression in one of his rare villainous roles as a disciplinarian major with a sadistic streak, for which he won the David di Donatello award – Italy's Oscar.
His final screen appearance was in the small part of the hotel manager in Woody Allen's To Rome With Love (2012). He had his largest fanbase in Japan, where a fashion house named a clothing line after him, and the Suzuki company introduced two types of scooters called Suzuki-Gemma. Apart from his acting, Gemma was a talented sculptor, having had several exhibitions of his work.
He is survived by his second wife, Baba Richerme, and two daughters, Vera and Giuliana.
• Giuliano Gemma, actor, born 2 September 1938; died 1 October 2013
Topics

Tom Betts

Léon Klimosky




Messages

: 185


Date d'inscription

: 06/11/2010



Page 4 sur 4 •

1, 2, 3, 4


Sujets similaires
---
Permission de ce forum:
Vous
ne pouvez pas
répondre aux sujets dans ce forum